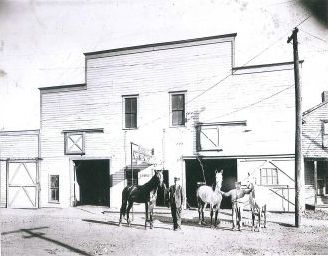 Before it was Stevenson Company, it was a stable in Historic North Topeka
In 1952, Mr. Russell B. Stevenson bought a small tin shop and advertised in the local business directory: "Sheet Metal Work of All Kinds." The business was located in a former stable. Though our facilities have been updated a bit since then, we have remained at the same location. We have also expanded into two shops for a total of 15,500 sq ft. Many years after working for Mr. Stevenson, the Pennington family bought the company in 1990.
Stevenson first expanded into the food service industry when working with a customer to build an egg-breaking machine. Our work in spiral chutes began when a customer with a snack food company was looking to reduce breakage of their product.
Our latest milestone was the introduction of a hi-def plasma machine into our shop. This state-of-the-art machine has greatly increased the services we can offer and expanded the projects we can tackle. It has also cut down on work time; where before it took one day to create spiral rings, it now only takes half an hour.
"Sheet metal work of all kinds" circa 1952
We now work regularly with companies from coast to coast. We have also worked on projects internationally in India, Japan, Brazil, and England. From a former stable to a trusted company known worldwide, our mission remains the same to provide "all kinds of sheet metal work" through our dedicated staff. Together, our people focus on our customers' needs and provide outstanding service to achieve quality results.